Jun. 03, 2016
Vertical kiln also known shaft kiln,used for calcining cement clinker and high alumina clinker, clay, limestone, dolomite, magnesium stone...etc. CCEWOOL refractory brick, according to vertical kiln operating conditions, refractories' usage and economic performance can be preferred.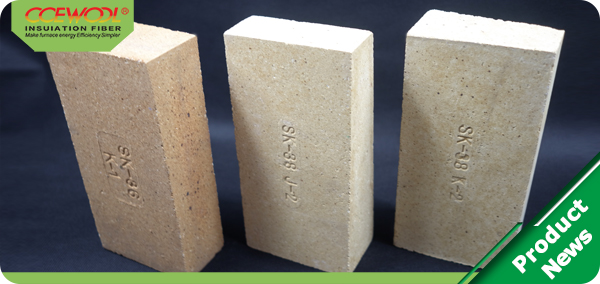 1.Bell mouth
Bell mouth kiln lining should thermal shock, corrosion resistance. Now the phosphate bonded alumina bricks are ideal kiln refractory brick used as lining. Phosphate firebrick has the following features:
1)High strength, good wear resistance;
2)Good chemical resistance, alkali resistance superior to clay brick and high alumina brick.
3)Good thermal shock resistance
4)High refractoriness under load
According to refractoriness under load can divide phosphate refractory brick into high and low two grades. Low-grade phosphate brick, refractoriness under load is 1300-1350 ℃, and high-grade phosphate brick at above 1500 ℃. While use phosphate refractory brick, adding appropriate thickness kiln skin in the surface layer of brick can help protect and extend the life of kiln lining.
2.Cooling zone
This zone's damage on kiln lining is wear, so the kiln lining should select wear resistant material. In addition, in order to quickly distribute the clinker heat, we should choose material in good heat transfer performance . Phosphate bonded alumina bricks are in high strength, abrasion resistance and high thermal conductivity, is the preferred material of the cooling zone. The brick wear rate below 800 ℃ not more than 2% (1.63% - 1.87%), so some of information also call it wear-resistant phosphate bonded high alumina bricks. Both names are included in phosphate brick. For ordinary vertical kiln and simple small-diameter vertical kiln can choose CCEWOOL high-strength and dense clay brick.
3.Thermal insulation layer
Vertical kiln above φ2.5m is usually insulated by the insulating brick and filler two parts.
(1)CCEWOOL thermal refractory brick.The outer of shaft kiln lining may consider using low thermal conductivity and high thermal insulation materials, such as lightweight bricks.
(2)Thermal insulation filler can use below material:
1)expanded perlite 2)expanded vermiculite 3) mineral cotton 4)CCEWOOL Silicate aluminum refractory fiber
CCEWOOL refractory brick included sk32 to sk38, manufacturing as per ASTM&JIS standard. These products are mainly applied in Iron and steel, non-ferrous metallurgy, chemical industry, building materials, glass, carbon, hot, coking and other industries. Temperature varies from 1250C to 1520C.