Jun. 29, 2016
As burning hazardous waste this specific field, rotary kiln incinerator to deal with complex industrial waste and medical waste has advantages of wide adaptability, stable and reliable running, convenient management and operation, simple maintenance. So it is widely used in international hazardous waste incineration field. Here introduces rotary kiln incinerator lining structure and CCEWOOL refractory materials.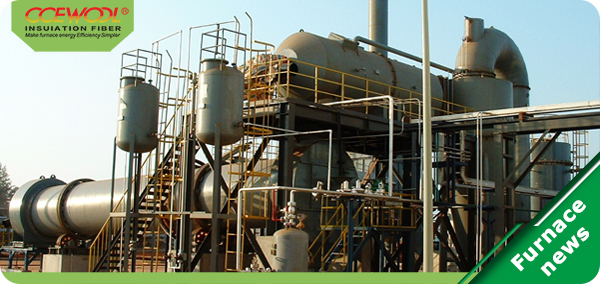 1.Countercurrent rotary incinerator, furnace temperature is 950 ~ 1050 ℃, pouring 200mm thickness low calcium aluminate hot concrete in front of the furnace body. Backside 17m build 200mm thickness CCEWOOL high alumina brick SK37, some using CCEWOOL alumina brick 220mm thickness, protruding portions are spirally arranged. When rotating will turn the material, replace the rotary kiln's common used copy board. From burner to the furnace end is a circular cover: inner burner pours l00mm thickness lightweight concrete; furnace nail lining 50mm thickness vermiculite and bauxite mud as insulation part, and then pouring l00mm thickness lightweight concrete.
2.Downstream rotary incinerator exhaust gas temperature is 1000 ℃. In its lining structure, pouring two layers heat-resistant concrete total 220mm thickness, 110mm lightweight heat resistant concrete; the outer layer (the working layer) pouring phosphate resistant concrete. Or high-temperature zone using CCEWOOL high alumina brick SK38.
3.Deodorization incinerator, furnace temperature is 900 ℃. Its lining structure is pouring two layers hot concrete lining, 100mm thickness inner layer is heat-resistant lightweight concrete, the outer layer (the working layer) 100mm thickness low calcium aluminate heat-resistant concrete; Apex is 0.7m high lightweight heat resistant hot concrete; 1.74m bottom lining is same as linging structure; Combustion room lining is 50mm thickness vermiculite and asbestos, the outer layer (the working layer) uses 114mm thicknes CCEWOOL high alumina brick CCEWOOL (SK37)
CCEWOOL High alumina brick used in Rotary kiln incinerator having below advantages:
1. Precise size, tolerance would be controlled within +1mm, which is easy for install.
2. Compared with same degree fire brick, its porosity is lower and the compressive strength is 20% higher.
3. Uniform color, fewer black spot, low Fe content, 20% longer service life.