Jul. 07, 2016
Last week we introduced the use of technology CCEWOOL refractory brick in furnace - steel and pre-acceptance masonry. This week we talk about refractory brick's masonry order and method.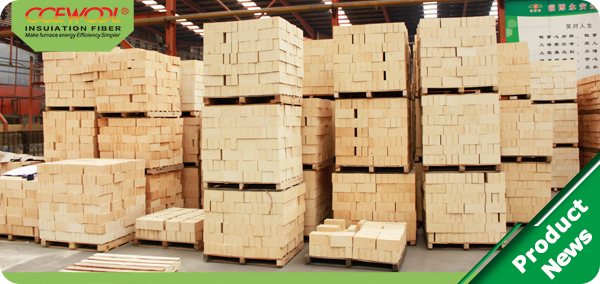 (1)On the basis that it is acceptable of the bottom of the steel structure, we release associated feeding port, front and rear on the center line of each station via bubbling and forming drain drawing board according to the baseline of kiln construction and kiln center line.
(2)Furnace's bottom of masonry, including the passage at the end. After masonry CCEWOOL insulation fire brick and CCEWOOL refractory brick, relax 30-50mm leveling at inside and outside of masonry wall. Multi-layer structure in underground masonry elevation negative deviation must be controlled. The bottom of the total thickness tolerance is generally -3mm. Laying chromium ramming material as a sealing layer on top of the bottom layer of to prevent penetration of molten glass to the poor corrosion resistance of clay brick layer.
(3)Furnace's wall masonry, including the passage wall. The bottom wall of brick masonry must ensure the levelness, or the bottom part of the brick will be processed until the requirements. When multilayer wall brick building, process inside wall and then the outside wall and make sure the furnace size is exact, non-wood chisel surface facing brick hearth. Corner seam pressure required staggered masonry, strictly maintain verticality.
(4)Lifting column. Interim measures to stabilize the column, and then install ballast angle according to design requirements. Angle steel column and ballast angle must be close to the same time determined the elevation.
Next week, we continue to discuss precautions of masonry CCEWOOL refractory bricks. Welcome your participation
CCEWOOL—An industrial leader in furnace insulation energy saving solutions. Make energy saving easier. Can provide large range refractory material used for furnace, such as CCEWOOL refractory brick, CCEWOOL insulating brick and CCEWOOL ceramic fiber.