May. 03, 2016
April 27th , is the delivery day of Oman customer's customized ceramic fiber blanket.
The specification of ceramic fiber blanket ordered by customer is 1260STD with size 7200x610x25mm.
The product is produced strictly as per EU standard.
During loading our workers handle the products with care and make sure there is no bumping to the products.
Our workers stack the products neatly in the container and make the most of container space to save freight cost for our customer.
We have our own raw material base, we choose high quality kaolin as raw material and use specialized rotary kiln to produce ceramic fiber. This makes shot content of our ceramic fiber blanket 20% lower than other company's product.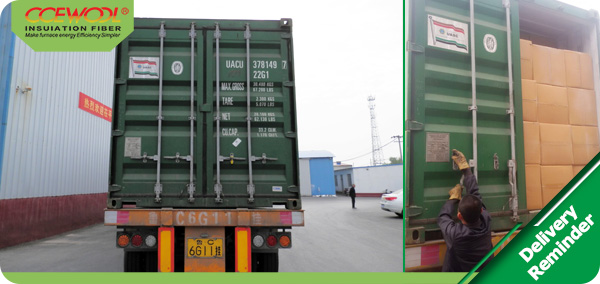 We use inside needle technology to produce ceramic fiber blanket, so the tensile strength of the ceramic fiber blanket is higher and its service life is 20% longer than other company's products.
We can produce ceramic fiber blanket in the shape of roll, sheet, and strip with width ranges from 100mm to 1220mm.
Our company can also produce High Purity Ceramic Fiber Blanket and Biosoluble Ceramic Fiber Blanket.
This shipment is estimated to arrive on May 10th , 2016. Please prepare for collecting the cargo.