May. 04, 2016
The whole ceramic fiber car-bottom furnace's door is made by furnace door, door lifting mechanism and the door latch components. Door 'shell is welded by steel plate, also use CCEWOOL Ceramic fiber module inside. Because ceramic fiber blanket is light weight and have excellent insulation characteristic. Door lifting device uses electric devices. It is mainly consist of door frame, door lifting beam, reducers, sprockets, shafts and bearings and other parts.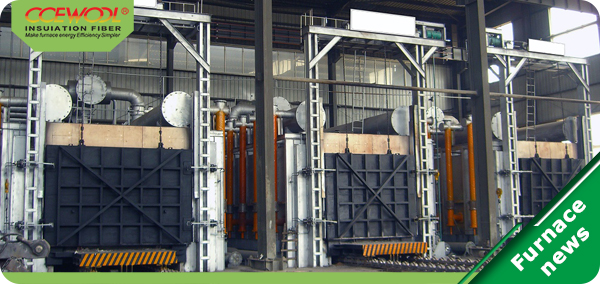 The door' movement is based on the reducer drive. Door lifting improve the reducer which have brakes, can effectively prevent the door displaced in lifting process. Door clamping device uses advanced spring-loaded clamping structure. When need to upgrade the furnace, using the weight of the door to automatically release the door, and removed some distance horizontally.
When the whole ceramic fiber car-bottom furnace door falls into a certain location, door is moved horizontally and be a sealing situation by the spring's force. This kind of structure makes no gap between ceramic fiber and furnace door. It has better safety and long service age.
The whole ceramic fiber car–bottom furnace's structure, which using steel plate, guarantees that it is without deformation under full load. The load-bearing parts and easy collision part use CCEWOOL refractory brick can increase the strength of furnace lining. The whole ceramic fiber car-bottom furnace is using self-propelled, driven by the reducer drive sprocket wheel to go walking on the tracks.
CCEWOOL ceramic fiber–the leader in furnace energy saving, not only provide products, like ceramic fiber blanket, board, module, refractory brick, also provide energy saving solutions.