Jun. 15, 2016
The sealing performance of shuttle kiln will directly affect fuel consumption. The heat storage of lightweight foam insulation bricks and alumina silicate ceramic fiber felt (CCEWOOL ceramic fiber blanket ) is only about 10% of the refractory bricks.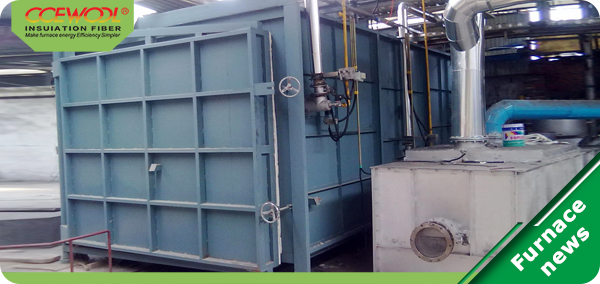 There is a good insulation properties of kiln wall and kiln roof with above thermal insulation.At the high temperature phase, the thermometer measured temperature of surface of the iron combustion chamber is only 50-80 ℃, fuel consumption can be reduced by 10% - 15% .
Although shuttle kiln using lightweight foam insulation bricks and masonry alumina silicate ceramic fiber felt may pay much in one time , but the construction cost can be recycled within a few months because of the significant energy savings in production .
The sealing of ceramic shuttle kiln and kiln car are twists closed structure and sand seal structure.30mm thickness alumina silicate ceramic fiber felt are pasted on kiln car connectors,surroundings and contact with the periphery and kiln body.This can prevent kiln flue warming and the infiltration of cold air,increase the sealing performance of the kiln , reduce temperature difference between kiln narrow upper and lower , reduce heat loss ,shorter high thermal insulation time and promote fuel consumption reduction .
‍‍CCEWOOL Ceramic Fiber Blanket‍‍ is a new type of fire-resistant insulation materials in white and tidy size,with integrated fire resistance, heat separation and thermal insulation functions, containing no any binding agent. It maintains good tensile strength , toughness and fiber structure in neutral , oxidizing atmosphere.It was divided to four classes depending on working temperature:1050 ceramic fiber blanket,1260 STD ceramic fiber blanket,1260 HP ceramic fiber blanket,1400 HA ceramic fiber blanket,1450 HZ ceramic fiber blanket.