Sep. 25, 2017
Last week we elaborated on refractory material used in cement kiln and ceramic kiln. This week we will elaborate on refractory material for coke oven and fluidized bed incinerator.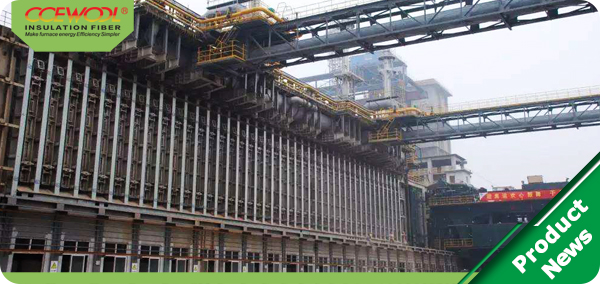 Refractory material for coke oven.
(1) Refractory material for carbonization chamber. In the past people mainly use fire clay brick for carbonization chamber. Now the tendency is to choose high quality high alumina brick, sillimanite brick and andalusite brick.
(2) Refractory material for combustion chamber.The combustion chamber and the carbonized chamber share the furnace wall. So the brick type of combustion chamber is the same with carbonized chamber.
(3) Refractory material for the top of furnace. Temperature around coal charging hole on the top of furnace fluctuates greatly. So it is built with fire clay brick. The other parts are built with silica bricks.
(4) Refractory material for chute. Chute connects combustion chamber and regenerative chamber. So the brick for shut should be stable in size and can resist thermal stress. Small coke oven use fire clay brick to build. Large and medium coke oven use silica brick to build.
(5) Refractory material for regenerative chamber. Wall, partition wall, checker brick and brick of regenerative chamber of samll coke oven are all built with fire clay brick. Middle and upper parts of regenerative chamber of large and medium coke oven are all built with silica brick. So the coke oven can expand evenly.
(6) Refractory material for bottom flue. Bottom flue is at the bottom of regenerative chamber, it connects with flue. The inner linning of bottom flue is build with fire clay brick.
Refractroy material for fluidized bed incinerator.
Incinerating temperature of fluidized bed incinerator is 750~870℃. Because the material in incinerator (carrier and residu) is in boiling turbulent motion. The linning material of furnace should be heat resistant and wear resistant. The linning of furnace is built by pouring with heat resistant concrete, total thickness 25mm. The inner layer is built with 150mm thick light weight heat resistant concrete as insulation layer. The outer layer (working layer) is built with 100mm thick heat resistant and wear resistant bauxite concrete or light weight insulating fire brick and first class high aluminum brick.
This week we mainly describe refractory material for coke oven and fluidized bed incinerator. Hope this can bring help to furnace builders and workers.