Dec. 16, 2016
Mullite Insulating Brick select natural、high-quality、high-aluminum、low-iron、 and high-purity mullite as the raw material, according to different models adding aluminum powder from firing. Products can be directly in contact with the flame; characterized with high temperature resistance, high light, small thermal conductivity, and energy-saving effect. Here we explain the application of Mullite Insulating Brick according to the structure of the glass furnace.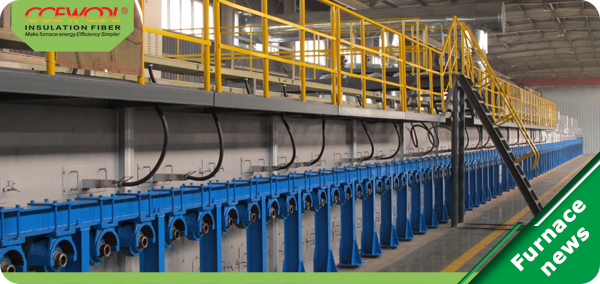 1. Front gable wall
The front wall of the glass-melting furnace is close to the batch material area. Because of the large temperature fluctuation and the more raw material dust, and the conditions are relatively poor; the Mullite Insulating Brick have good anti-quench and thermal shock resistance, and good anti-fit Material dust erosion ability. So the part of the hanging wall and feeding port wall can be designed to use CCEWOOL sintered capacitor mullite brick.
2. Waist
The regular design of the waist is with barrier waist pipe and stirrer. There is relatively larger temperature difference in waist space during equipment maintenance. Application of sintered mullite bricks is a good design choice.
3. small furnace and regenerator upper wall
Smelting zirconia corundum brick is the best design choice for small furnaces, because of the Mullite Insulating Brick, especially the mullite bricks that using the fused mullite as the raw material, also has good resistance to corrosion and alkali vapor erosion resistance. And reinterred fused mullite bricks may be used in small furnace, at least in a few pairs of small furnace, to improve operating environment of the small furnace and reduce the cost of the site. Similarly, the re-sintered capacitor mullite brick can also be used in the upper wall of the regenerator, compared with alkaline brick, mullite brick has a lower thermal conductivity and expansion coefficient, can reduce the tendency of expansion and deformation of the kiln and reduce the kiln Body heat loss and insulation costs.
The above-mentioned CCEWOOL Mullite Insulating Brick in the application of glass melting furnace, hoping to give some help to kiln constructers. Next week we will continue to talk about application of mullite brick in glass melting furnace structure, so stay tuned.