Mar. 22, 2016
The kiln crown, kiln walls, kiln car and kiln furniture of ceramic industry tunnel kiln can use refractory bricks. Here we introduce the selection of refractory materials in different parts: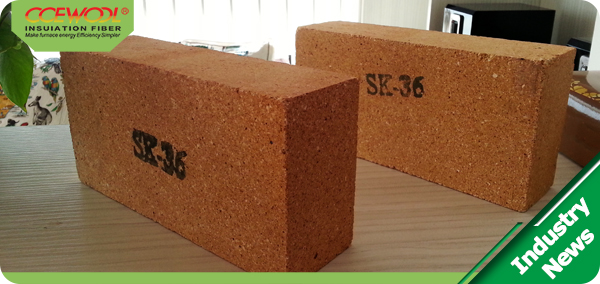 (1) Kiln crown: Kiln crown mainly has light weight bricks type, combined type and all refractory type. Light weight bricks kiln crown is composed of lightweight refractory bricks and thermal insulation material. Combined type kiln crown is composed of the cordierite tablets and refractory fiber.
(2) Kiln walls: The traditional type kiln wall often uses clay bricks, high alumina bricks and corundum bricks. Combined type kiln crown uses light weight refractory bricks, refractory casting top plates.
(3)Kiln car and kiln furniture: The traditional kiln wall uses heavy refractory bricks (for example, clay brick, high alumina brick, etc.
Semi heavy duty kiln car lining material mainly use light weight refractory material, such as: refractory fiber, lightweight refractory brick and expanded vermiculite powder etc. Modern kiln furniture material mainly used the synthesis of cordierite - mullite, recrystallized silicon carbide, etc.
CCEWOOL refractory fire brick is a high density refractory material. CCEFIRE series refractory brick included clay brick and high alumina brick, manufacturing as per ASTM&JIS standard. Refractoriness under load varies from 1250C to 1520C.
1.All of our refractory bricks adopt 100% chamotte materials, fully automatic batching, the quality is more stable, its iron content is lower, and the porosity is lower.
2.Automatic kiln temperature control system, can guarantee that the fire brick is heated evenly, uniform color, longer service life.
3.Precise size, tolerance would be controlled within +1mm, which is easy for installation.