Jan. 06, 2017
Car-type furnace mainly consists by the furnace chamber, trolley and track, door and flue and other components.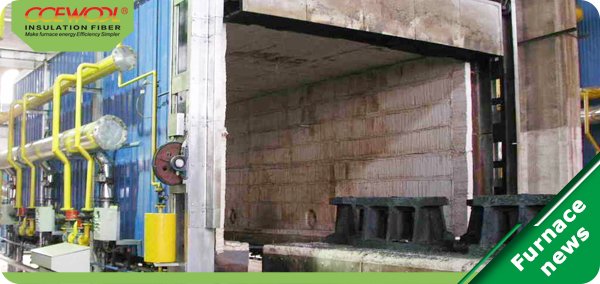 1. the structure of furnace chamber
The hearth of the trolley type furnace is composed of the steel structure furnace body, refractory fiber masonry the furnace body and the door that on the steel structure, and the sealing mechanism on the steel structure and the furnace wall and the periphery of the trolley.
1.1 brick masonry furnace chamber
The furnace body steel structure consists of steel column and steel plate that welded into a sealed shell body to prevent the refractory masonry expansion and contraction deformation, to ensure the air tightness of masonry. The brick masonry wall consists of the inner refractory bricks, the outer insulating bricks and the insulated refractory fiber board. Brick furnace top is masonry by arch brick, wedge brick and straight brick to form a arch shape. Layered thermal insulation material on the arch. Car-type furnace burner arranged in the lower part of the furnace wall on both sides, the bottom of the burner brick and trolley above the elevation has similar height, high temperature gas through between the trolley surface and the iron pad to form circular flow. Trolley type billet heating furnace in the furnace wall is arranged at the lower part of the burner, or about 20% of the total allocation of heating board is installed in the upper part of the furnace wall burner, to supplement the lower heating board. In order to prevent direct flame scour work pieces, avoid overheating, the upper burner upward tilt of 15 degrees, the lower burner generally downward inclined 5 degrees -10 degrees or horizontal direction.
1.2 refractory fiber furnace chamber
There are some different points between refractory fiber furnace chamber and the bricks masonry furnace chamber.
1) Refractory fiber furnace chamber is more thinner, lighter, good thermal insulation than bricks masonry furnace chamber.
2) Refractory fiber furnace top without vault thrust, no masonry expansion stress, so the furnace steel structure is light.
3) Due to light weight of refractory fiber masonry, furnace wall can be reset by light steel can make the furnace wall hanging, good ventilation and heat dissipation at the bottom of the trolley.
4) Using characteristics of the soft and elastic from fiber and changes in the structure of the furnace body, there are a variety of superior sealing structure than sand seal.
Next week we will explain the refractory fiber used in trolley furnace flue, furnace door and other departments, hope the information above can bring some help to furnaces manufactures.