Apr. 01, 2016
Thermal insulation ceramic fiber tape is widely used in various heat treatment equipment. Next, we do a brief introduction about the advantage and application notices of thermal insulation tape.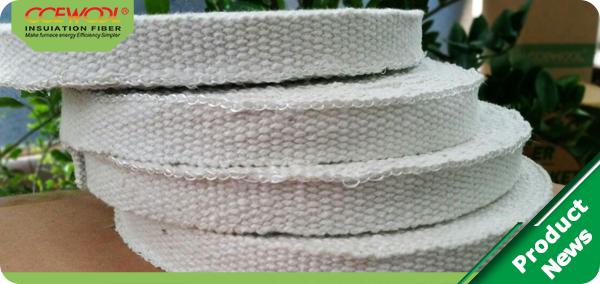 The advantage of CCEWOOL thermal insulation ceramic fiber tape
1) Continuous use temperature up to 1000 ℃, short-term use temperature up to 1260 ℃.
2) Having excellent acid-alkali corrosion resistance ability and Aluminum zinc metal erosion resistance ability.
3) Excellent high temperature strength and thermal insulation properties.
4) Glass fiber reinforced ceramic fiber cloth, tape and rope have better electrical insulation and high temperature electrical insulation ability than glass fiber.
5) Non-toxic, harmless, and odorless.
Pls note:
Thermal insulation ceramic fiber tape contains about 15% organic fibers. When using ceramic fiber tape for the first time, with the rising of temperature, it will appears carbonization phenomenon, the color will become black, and appear smoke atmosphere. There may locally appears flames, but this is normal and does not affect usage.
With the temperature continues to rise, the product will gradually turn white, because the organic fiber completely carbonized.