Sep. 30, 2016
Last week we talked about two reasons for the damage of hot blast stove refractory bricks: 1, high temperature thermal stress; 2, fire masonry by the expansion force and gravity.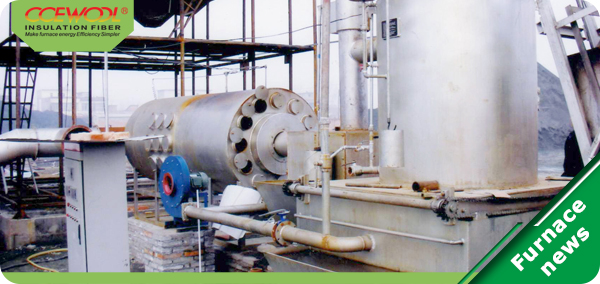 The following describes the other three damage reasons of hot-blast stove refractory bricks
3. Chemical erosion. Hot blast stove fire masonry in the surrounding medium are mainly gas dust which contains alkaline oxides, alkali metals and silicates, etc., those chemical produce low melting point substances with refractory masonry components at high temperatures, resulting in damage the structure of refractory bricks, and decreased the strength and high temperature performance of refractory bricks. Especially the surface of the lattice brick is slagged to form vitreous, so that the heat exchange capacity is greatly weakened.
4. Mechanical erosion, wear effect. Mainly refers to the strong impact and wear of high temperature combustion exhaust and blast on the brick-lining surface. Especially, at the lower part of partition of the internal combustion hot blast stove's combustion chamber, due to the impact of the combustion of the high temperature airflow, it will generate a vibration and making the lower part of the combustion chamber partition cracking, peeling off and shorting.
5. Creep deformation. At present, according to result research of the hot blast stove, the fire masonry in the high temperature and high pressure will result creep, which is an important reason of the hot blast stove refractory brick damages. CCEWOOL hot-blast stove refractory bricks has more than 40 years production experience. It is equipped with 4 tunnel kilns and over 40 presses. The annual output is more than 50,000 tons and the products comply with ASTM & JIS standards.
The above-mentioned reasons for the damage of the hot-blast stove refractory bricks, hoping to help kiln constructers.