May. 06, 2019
Installation method of CCEWOOL insulating ceramic module: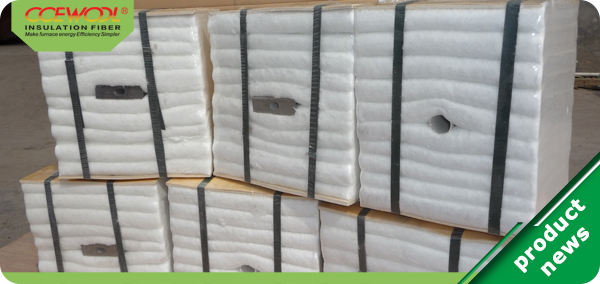 1. Before installation, it is best to weld the short anchoring nails on the furnace wall. Because the head of the short anchoring nails is threaded, it is required to be covered with a layer of heat-insulating rock wool. The thickness of the insulating rock wool is best controlled between 15 ~ 20 mm. In order to ensure that the center hole of the back bead of the module is aligned with the short anchoring nail, the short anchoring nail needs to be inserted into the hollow sleeve in the insulating ceramic module, and the nut is placed in the sleeve of the wrench. When everything is ready , use wrench to fix the nut to the head of the short anchor.
2. After the nuts, the short anchor bolts, and the back bead of insulating ceramic module are fixed by the above steps, the entire insulating ceramic module can be fixed on the furnace shell.
3. The reinforcing plate is on the back bead of the module, which is mainly used for the connection with the bolt. When installing insulating ceramic module the folding direction of the module needs to be staggered, so that the modules are installed at intervals. When after installation, the insulating ceramic module can expand freely to fill the gap.
Above are the installation steps of CCEWOOL insulating ceramic module on furnace wall. Generally speaking, it is simple. However, each installation step must be treated strictly and carefully. Otherwise it will cause series accident.