Feb. 20, 2017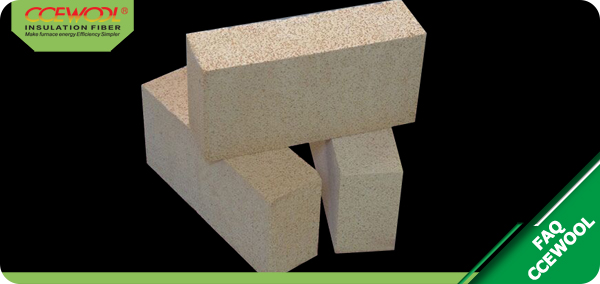 1) What is CCEWOOL high-alumina lightweight brick?
High-alumina lightweight brick is commonly known as heat-resistant refractory bricks, also known as high-aluminum heat insulating bricks. Alumina content is 48% or more, lightweight refractory material mainly composed of mullite and corundum or composed of glass phase.
2) What's the important technical data for CCEWOOL high-alumina lightweight brick?
Bulk density: 0.6-1.35 g / cm3;
Porosity: 66% -73%;
Compressive strength: 1-8MPa;
Fe2O3: ≤2%.
3) What's the detail features of CCEWOOL high-alumina lightweight brick?
Control quality from raw material. Production method usually adopts bauxite clinker and a small amount of clay, then through grinding and gas generating method or method to form foam mud casting and forming, by firing 1300 to 1500C. When direct contact with the flame, the surface contact temperature shall not be higher than 1350C.
4)What kind of furnaces does CCEWOOL high-alumina lightweight brick apply in?
Its essential function is heat insulation, under normal operation, usually do not contact directly with the temperature of the furnace. It is a kind of refractory brick, which is close to the furnace wall and has the function of heat insulation and heat preservation. Bricks that using for lining and heat insulation layer of the kiln, as well as the areas where non-intensive erosion and scouring of hot melt materials. Applicable to the tunnel kiln, roller kiln preheating, cooling zone, heat insulation and soaking pit, petrochemical reforming furnace and kiln top wall thermal technology equipment such as general insulation.
CCEWOOL high-alumina lightweight brick factory with 40 years production experience. It is not only one of the earliest factories produce lightweight insulating bricks, but also an insulating brick industry standard constitutor. Adopting fully automatic batching system and high purity raw materials, proportion more accurate and stable.Self-owned laboratory and professional test machines, providing test reports before leaving factory.