Aug. 26, 2016
The application of ceramic fiber in hung ceiling structure of tunnel kiln successfully solved the problems of ceiling collapse and falling of refractory material which were caused by using heavy refractory material. This application makes the kiln structure lighter, reduces the cost of kiln and makes the kiln safe and reliable. Besides makes kiln more energy efficient.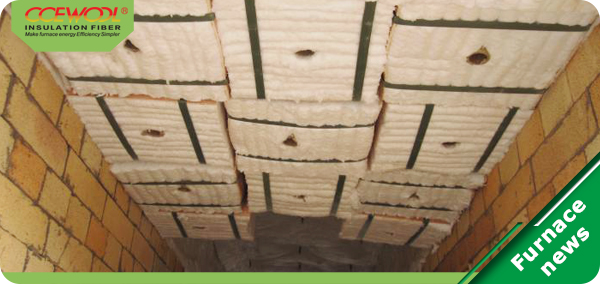 Ceramic fiber module is divided into 1050common, 1260STD,1260HP, 1400HA and 1430HZ according to temperature range. High temperature roasting section must use ceramic fiber of 1400HA or ceramic fiber with higher temperature. It is not allowed to use ceramic fiber of the same temperature range in different sections of different temperature range. The connection element must be of high quality, and high temperature resistance. It is not allowed to choose other low grade products.
Performance data of 1400HA ceramic fiber module used in high temperature roasting area is as follow: Classification temperature:1400℃, working temperature:1200℃, heating linear change(1000℃ 24h)≤-3%, density220-224kg/m³, chemical content AL2O3≥52.5%, AL2O3+SiO2≥99%.
Ceramic fiber hung ceiling structure guarantees the even gap between kiln ceiling and brick and makes uniform ventilation.